The best part of my year is always Turkey Derby. Blu Metz always makes sure I am hooked up with a seat for SOMETHING. This year was no exception.
He informed me that he had one from his fleet ready. He then said, with a wry grin, that based on how it practiced leading up to Turkey Derby I would be pleased. Hmm.
After the first practice session, he was more than correct.
I parked it after the session and had a phone shoved in my face. It showed me in the top 6. I was confused, and the look on my face as I de-helmeted must have shown that. With a proper use of a swear word I was informed that is how I ran…first time in the car with this set-up.
I was pleased because this meant I would get to go out in the fast group for time trials (based on practice times). This is the opposite of 2015 where I was trying to get out of the slowest group. I hate group time trials but felt with even a decent lap I would make the invert.
After my laps, which felt solid despite some twitches, I ran across the scales. This time I was intercepted with some fingers and another phone.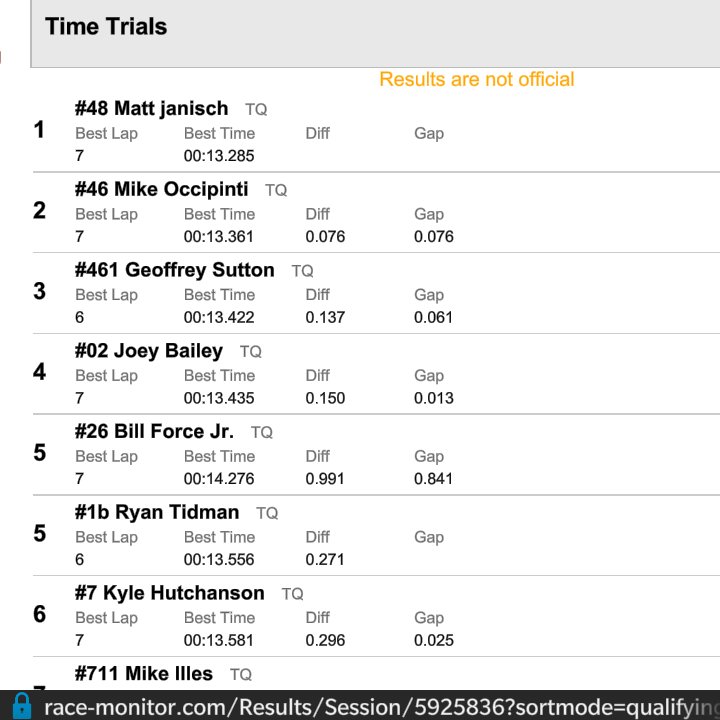 . I ended up P2. I was told also that I had the pole until the last lap of the session when points champion Matt Janisch ran off the quickest lap.
I drew 2nd for the feature. We took the green and I got "hustled" with a nerf bar right at that instant. Slid into line in 5th place and we were gone. We ran in formation for about 10 laps. I was being held up but there was no point to push the matter. I then saw the 3rd place car get loose, and 4th go under him. I had a good run off the corner so turned down even further. This unweighted the rear and around I went.
Started in the back and was picking off cars patiently despite my self-induced ire. About 10 laps more and an accident occurred mid-pack. Stopped car and had nowhere to go. I piled in and then got hit from the rear. Started all over and that was about all she wrote as I must have knocked the toe out.
Overall it was a fantastic time since showed that could run in the front. I just wasn't used to being there in a TQ! It made me really want to go to the indoor races.
Thankfully yours,
-Michael